What would happen if Michael Jordan played in 2020?
1. Incredible athleticism
Let's start with physique: Would Jordan be able to hang with today's best players? The answer is unequivocally yes.
Jordan remains one of the most impressive athletes the NBA has ever seen. Consider this passage from a 1983 New York Times profile:
"He is a well-proportioned, 6-foot- 6-inch, 190-pounder who can play either guard or forward. He is fast, having run the 40-yard dash in 4.3 seconds."
We all know MJ could leap out of the gym, but his speed was ridiculous, too. He could run like Deion Sanders. Imagine Klay Thompson's frame combined with Allen Iverson's agility and Russell Westbrook's speed. He might not have been as big or as strong as LeBron James, but Jordan made up for that with elite quickness. Oh, and those hops were pretty good.
While some players from Jordan's time would have trouble keeping up now, MJ would be just fine.
---
2. Great shooting
Would Jordan's offensive game work today? This is where it gets tricky. The game has changed a lot since he hung it up for good in 2003. The kinds of midrange buckets Jordan feasted on are now frowned upon, with most stars shooting 3s instead. Could Jordan have adjusted to this new reality?
The real Michael Jordan was born in 1963. Let's pretend this hypothetical, modern Jordan was born in 1993 instead. A lot changed in youth basketball between 1970 and 2000, and a lot changed in college hoops between 1980 and 2010.
The real Jordan carefully engineered his game during a wildly different version of basketball. In his rookie season, NBA teams averaged 3.1 3-point attempts per game. During the 2019-20 season, they averaged 33.9. Now, any shooting guard who wants to win like Mike must have a powerful 3-point arsenal.
Skeptics might argue that during his career, Jordan made just 32.7% of 1,778 3-point attempts — not great for then and now, but that number is also misleading. Most courts Jordan learned to play on didn't even have 3-point lines. When MJ made his first iconic game winner, to win the 1982 NCAA championship game, that court didn't have one, either.
On this date: Jordan wins title for UNC
On March 29, 1982, Michael Jordan's game-winning shot against Georgetown captures the national title for North Carolina.
A hypothetical Jordan born in 1993 would've grown up in a hoops culture awakening to the power of the 3. His high school squads, AAU teams and college program would have made Jordan practice 3s every single day. Asking if Jordan could shoot 3s is akin to asking if Babe Ruth could've used an aluminum bat.
When modern scouts evaluate shooting potential in young players, many look more closely at free throw percentage than actual 3-point percentage. Given the sample size, it's often more predictive, which is why many of the league's draft models still lean on the stat as a proxy for shooting skill. Jordan made 84% of his career NBA free throws, which is awesome.
More importantly, Jordan was the best jump-shooter of his era while combining shot creation, volume and efficiency better than any other player of his generation.
Michael Jordan's mastery of the midrange
Kirk Goldsberry dives into the numbers to show how Michael Jordan was both the most prolific and most efficient midrange scorer of the mid-'90s.
Jordan's shooting prowess at the line and in the midrange convinces me that MJ could've easily developed a reliable 3-point shot if he were playing today, even though he shot just 23.8% on 1.5 attempts per game in 1997-98. A hypothetical 27-year-old MJ playing in the NBA in 2020 could be expected to hit 3s as well as current players such as Paul George (39.9% on 7.9 attempts per game this season) and Kawhi Leonard (36.6% on 5.7 attempts).
Those LA Clippers are great two-way wings cut from the Jordan cloth, and both entered the NBA with unreliable range. Yet both developed their long-range shooting before they even reached their primes. How? Hard work, talent and the guidance of player-development coaches obsessed with building long-range jump shots.
Does anybody really think the most competitive superstar in the history of pro basketball wouldn't be able to develop a 35% to 40% 3-point shot if he grew up in an environment consumed by perimeter offense? Come on, man.
---
3. The rules have made offense easier
How many points would Jordan average in today's NBA? With changes to the perimeter touch rules (hand-checking was curtailed in 2004), shot distribution and pace of play, it's fair to assume Jordan's blend of usage and efficiency would've generated more points now than it did then.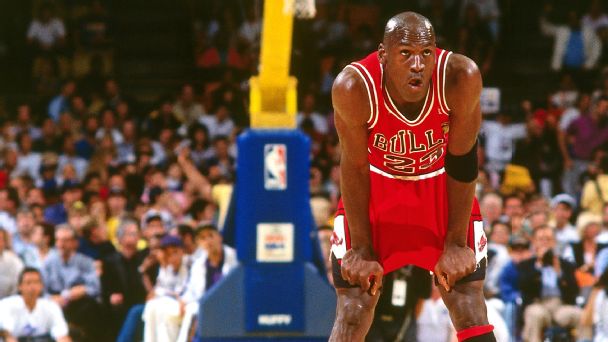 Imagine Jordan and the Bulls hunting mismatches amid today's switch-happy defenses. Imagine bigs such as Kevin Love or Kristaps Porzingis trying to stop Jordan after a switch. Imagine perimeter defenders such as James Harden or Stephen Curry trying to match Jordan stride for stride on dribble drives and rim attacks.
While today's NBA has more players such as Leonard, George and Thompson who would certainly match up better against MJ than his '90s contemporaries, the lack of hand-checking makes perimeter defense much more difficult. Today, Jordan could get clean shots at will and get to line with Harden-esque frequency.
During his 13 years in Chicago, Jordan averaged 31.5 points on 23.3 shots per game. That's 1.35 points per shot. But thanks to the 3-point revolution and those rule changes, perimeter scoring is easier and more efficient now. If we hold his shot activity constant and assign him the average efficiency of this year's top-10 scorers (1.41 points per shot), those same 23.3 shots would produce 32.9 points per game.
But Jordan wasn't average, and if we grant our hypothetical Jordan the same efficiency markers as Harden (1.52 points per shot), then those 23.3 shots would yield 35.4 points per game. That seems about right for MJ's prime.
---
4. Perfect defense for today's NBA
Over the past few decades, offenses have opened up. Gone are the days of dumping it down to the big fella. Now, it's more about pick-and-roll and drive and kick. So, could Jordan hang as a perimeter defender in the new NBA? Heck, yes.
In a league skewed increasingly toward backcourt play and perimeter production, Jordan's tenacity and impact on the defensive end would only be more valuable now than it was in his prime. Remember, Jordan led the NBA in steals three times. He won the Defensive Player of the Year award in 1988 and was First-Team All-Defense nine times.
Sure, he'd have to be a little less handsy than he was in the '90s, but his lateral quickness and balance would enable him to dance with today's best ball handlers. Plus, his size and length would help him contest step-backs and deflect passes like Paul George does.
It's fun to think about how Jordan might fare guarding today's best guards and wings. Could Harden break him down at the top of the arc? Could Klay Thompson curl off a screen and bury a catch-and-shoot 3 in his face? Could LeBron power past him on a fast break? Could Kevin Durant just shoot over him?
MJ could chase Curry around screens like he did against Reggie Miller. He could match Kawhi Leonard stride for stride like he did against Clyde Drexler. He might run into trouble with KD, but who in the world hasn't?
If there's a weakness, it's the size and strength. Jordan was plagued by foul trouble when he tried to guard the bigger, stronger Magic Johnson in the first two games of the 1991 Finals. That series might have gone differently if Jordan and the Bulls didn't have Scottie Pippen to save the day.
But Jordan wasn't a great defender because he shut down every superstar. He was great because he could at least make life difficult for even the world's best guards and wings. There's no coach in the league right now who wouldn't love to have a 6-6 wing with Jordan's on-court decision-making, speed and attitude.
---
5. Competitiveness
Oh, and about that attitude. It doesn't show up in the stats, but the thing that ultimately makes it clear Jordan would thrive in any era is his competitiveness. As we watch "The Last Dance," we see Jordan's competitive fire burning white-hot.
Just revisit that epic final sequence in Salt Lake City in Game 6 of the 1998 NBA Finals. Down three to the Jazz with 40 seconds left, Jordan drives to the rack for a layup in time to get a two-for-one, swipes the ball from Karl Malone on the other end and then hits the iconic winner over Bryon Russell.
MJ's last shot as a Bull
On June 14, 1998, Michael Jordan sunk his last shot as a Bull to give Chicago a Game 6 win over Utah for a sixth NBA championship.
From the time he was beating Georgetown in 1982 to the time he beat Utah in 1998, Jordan was the best player at the end of the season, at the end of the series and the end of the games.
Jordan didn't just dominate pro basketball in the '90s — he tore down the conventions that guided the league for decades, shifting the focus from bruising bigs to shot-creating wings. Don't ask if MJ could hang with the elite guards and wings of today. He was the progenitor of them. He reshaped basketball wisdom thanks to an unprecedented blend of physical gifts, competitive spirit and artistry.
It's a copycat league, but Michael Jordan didn't plagiarize. He wrote the book.