At a young age, Emma Watson became something of a feminist icon practically by default when she was cast as the brilliant, inspiring Hermione Granger in the Harry Potter films. In the years since hanging up her wand, however, she has joined the fight for gender equality in a more deliberate way.
The actress, who will be seen next as Meg March in Greta Gerwig's star-studded adaptation of Little Women — an early feminist text in itself — has intentionally taken on empowering roles (like her 2017 makeover of Beauty and the Beast's Belle) and promoted feminist literature. In July of 2014, Watson was appointed a Goodwill Ambassador for U.N. Women; that September, she delivered a rousing speech at the U.N. Headquarters launching the HeForShe campaign, the aim of which is to bring more men into the feminist fold, because gender equality benefits everybody.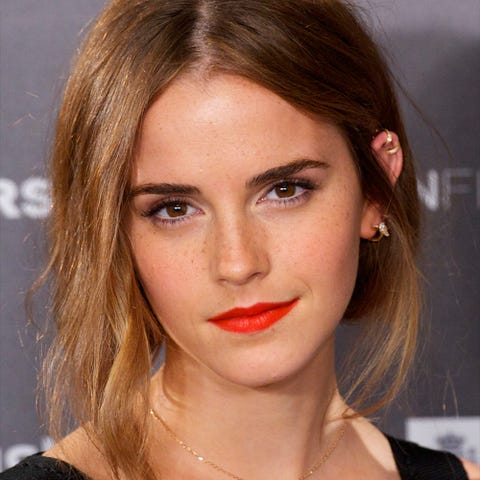 At the heart of HeForShe is the notion that to give women the same rights, respect, and opportunities afforded to men would not be detrimental to men; rather, the removal of the sexist social expectations that come with gender inequality would be freeing and beneficial to everyone.
"Both men and women should feel free to be sensitive. Both men and women should feel free to be strong."
In 2016, she gave an interview in Esquire U.K. where she spoke more about the importance of feminism for men as well as women:
"[Feminism]'s not about us convincing you that gender equality is worth engaging in only because there might be something in it for you, or in it for your sister or your mother. The question is, what's in it for humans?" she told the magazine. "Happier, healthier, more successful children? Being able to take proper paternity leave and see your baby? Being able to talk to someone if you're feeling shit? Actually getting to be yourself? Getting asked out by a woman? Better sex? A marriage that is a true partnership? More diverse and interesting perspectives in art, culture, business and politics? Getting to crowdsource all the innovation and genius in the world, not just half of it? A highly increased number of safe, confident and fulfilled people on the planet, particularly women? World peace? Seriously. World peace!"
That interview came at a moment when the conversation around Hollywood gender inequality, and specifically the gender pay gap, had exploded — in part because the Sony hack had revealed detailed evidence of exactly how much less the studio's female employees, and female stars, were making than their male counterparts.
"We are not supposed to talk about money, because people will think you're 'difficult' or a 'diva,'" Watson told Esquire. "But there's a willingness now to be like, 'Fine. Call me a 'diva,' call me a feminazi,' call me 'difficult,' call me a "First World feminist,' call me whatever you want; it's not going to stop me from trying to do the right thing and make sure that the right thing happens.' Because it doesn't just affect me, it affects all the other women who are in this with me, and it affects all the other men who are in this with me, too."
In December 2014, Watson appeared on the cover of Elle U.K. as "The Fresh Face of Feminism." In that interview, she spoke about what it means to preach feminism.
"Here's what I think. Feminism is not here to dictate to you. It's not prescriptive, it's not dogmatic. All we are here to do is give you a choice."
"We want to empower women to do exactly what they want, to be true to themselves, to have the opportunities to develop. Women should feel free. There is no typical feminist, there is nothing anywhere that says you have to meet a certain [set of] criteria."
In September of 2016, the actress lent her voice to a short film, Hurdles, narrating over footage of female athletes:
"Women and girls have always faced hurdles. But that's never stopped us. We've sacrificed, fought, campaigned, succeeded, been knocked back, and succeeded again. In a race for justice, we've leapt over countless obstacles to win our rights."
As much as Watson has been lauded for her activism, she has been attacked and threatened as well. In early 2017, she told Elle that her critics haven't discouraged her, but only inspired her to fight harder — and more creatively:
"Feminism can be humorous, and we all have a different way of approaching that. I often wonder what mischief I can make to spread the word in a playful way. You can't take everything in life seriously, can you?"
Six years after playing Hermione for the last time, Watson played another intelligent, beloved heroine. In a 2017 Watson spoke about the fierce feminist makeover she and director Bill Condon gave Beauty and the Beast's (already relatively empowered) Belle.
"If I asked a young boy what superhero they looked up to, I feel a lot fewer would say a female one or would ever use an example of a female one, than in reverse, which is a shame. We need to live in a culture that values and respects and looks up to and idolizes women as much as men."
"This isn't just, 'girls are better than boys, boys are better than girls.' This is just, 'everyone deserves a fair chance.'"
During the promotion of Beauty and the Beast, Watson posed for Vanity Fair in an artful photo in which she wore a sheer top and a capelet that exposed her breasts. The photograph received significant backlash from critics who thought her choice to show off her body was at odds with her feminism. She addressed the controversy surrounding the image with a clarification of what it means to be a feminist: "Feminism is about giving women choice. Feminism is not a stick with which to beat other women with. It's about freedom. It's about liberation. It's about equality," she said. "I really don't know what my tits have to do with it."
While Watson has spoken at length, for years, across platforms, to reach as broad of an audience as she can to spread the word that feminism is not a dirty word and that gender equality benefits everyone, she summed it up best in a brief line she threw out  on International Women's Day in 2015:
"If you stand for equality, then you're a feminist. Sorry to tell you."